Today is the first day of classes for me. I've already been to my photojournalism class and the weather was miserable. I took these photos after braving the snow and freezing rain, so my hair was a little damp and my boots were soaked through. Not only that, but I woke up sick this morning, so pardon mine and my room's appearance. I have one class left today, my fairy tales in English & American literature class. Sweet.
Yes, I am wearing striped jeans, which kept sneaking out of my boots. I was going to make them into skinny jeans, but I forgot I had them until last week or so.
Weird face. I don't care though, I'm all about embracing who I am... I guess.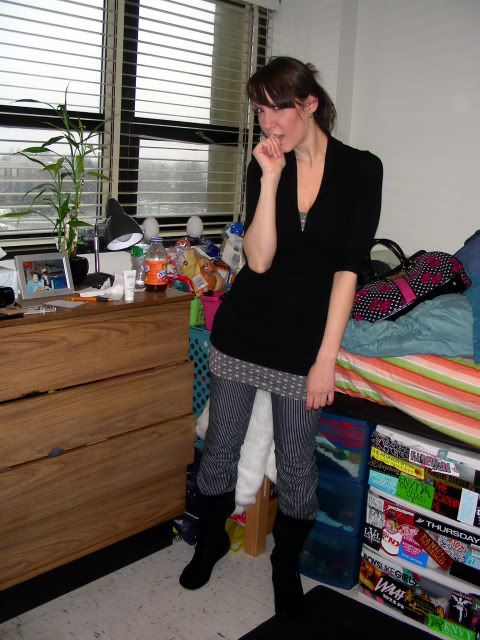 Mean face.
My mini bagel makes an appearance. I was hungry!! And apparently chewing.
Layers.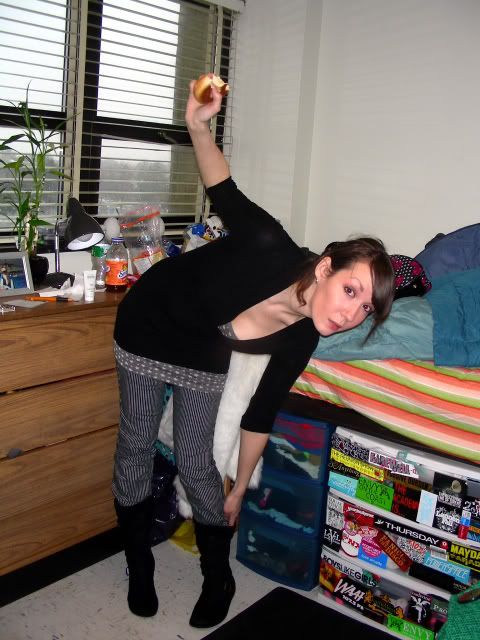 I was obviously not ready for this picture and after I saw it, I laughed and laughed. Very candid.

Sweater:
Forever 21
Tank:
Forever 21
Jeans:
Farlow Jeans (Big 80's brand, apparently.)
Boots:
Payless
And Sam of
Daily Fashion Boost
gave me this lovely award...
Now...
1. Put the logo on your blog or post.
2. Nominate at least 10 blogs which you think are fabulous.
3. Be sure to link to your nominees within your post.
4. Let them know that they have received this award by commenting on their blog.
5. Share the love and link to this post and to the person from whom you received your award.
I nominate:
Toni
,
Isabelle
,
Nil
,
Anna Maria
,
Jaleh
,
Nadine
,
Alice
,
Merily
,
Eszter
, and
Trisch
.