I just got back from getting coffee with my friend Kristin (who I worked with for the two week stint I did at H&M) and it was really awesome getting to catch up with her. And very shortly, I'll be seeing my friend Andrea and hopefully we'll be making red velvet cupcakes and playing Katamari Damacy... We're nerds.
In other nerdy news, I've been geeking out and watching
Armageddon Week
on the History Channel. Last night I watched 7 Signs of the Apocalypse which was so creepy and cool. I'm so stoked about Armageddon week. Fact: I'm really, really into theories about the end of the world. I want to be there for it.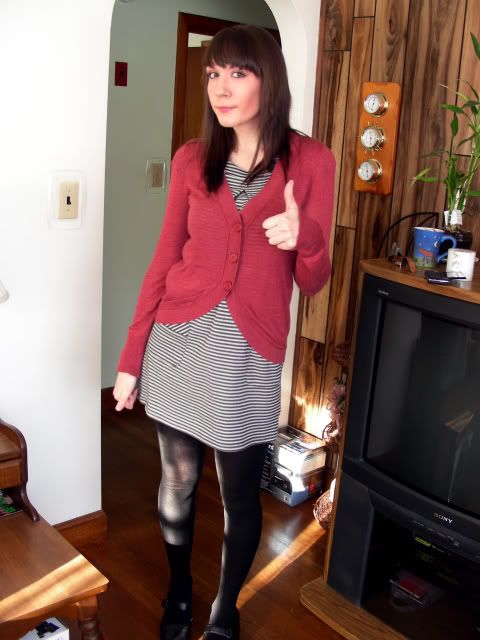 Funny story that inspired this thumbs up: I was driving home form my coffee date, and someone in a car let another guy cross the street. Instead of the obligatory hand wave of thanks, he gave the guy a thumbs up. I was so taken aback and amused that I think I'm going to start doing that instead too!
I guess I'll never be able to escape red and black.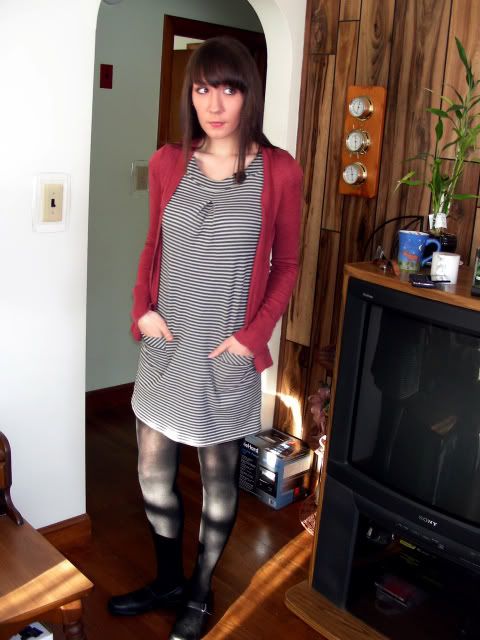 This dress is kind of mod-tastic, but my hair kept hiding the cute little button on the collar. Grr.
Motion sickness.
Yes, that is the sun setting at 2pm.
Cardigan:
Target
Tights:
Forever 21 (2 pairs!)
Shoes:
Sears(?)