Are you feeling as if I've worn enough red yet? Well have a look at this, it's Christmas day and my favorite festive color is nowhere to be seen. I used Christmas to pull out something that was intended by its makers to suit a somewhat fancier-than-everyday occasion.
Where every other blogger has gone and taken the day/week/month off to get into the holiday festivities, here I am carrying on talking to no one like a lunatic. To be honest, though, Christmas isn't a big deal to me. Anything that happens goes on in my house (I live with my grandparents), so I don't have to do any traveling or fussing over anything. My family isn't very close-knit so it's never an all-day affair. Nor are we religious. To be honest, I hate holidays and could really do without them which is why I haven't made much noise about it on this blog, but I still love using any excuse to get dressed up.
That can really just be shortened into "I love to get dressed up." Why else would I have this blog?
I WILL be busy for the next few days, though, but will probably continue to post outfits. My birthday will be celebrated in style, and I've got shows and movie nights and possible dance parties to attend. So, I wish a very Merry Christmas and/or Happy Holiday to you and yours.
Anywho!! I am wearing a lovely lace dress I had completely forgotten I owned. I had been eyeing a black lace dress much like this one at H&M, but when I tried it on in the fitting room, I was overwhelmed with the strangest sense of deja-vu... I realized I already owned something very similar and knew it would be lurking in the very back of my closet. So when I got home I embarked on a search-and-rescue mission and discovered it just as lovely as ever, with its tags still intact.
I bought it two or maybe three years ago off a rack at Macy's for a mere $9.99 (original price: $68). I don't know the first thing about shortening a dress like this, so I did some super secret tucking and folding to get the look in the picture where its shorter.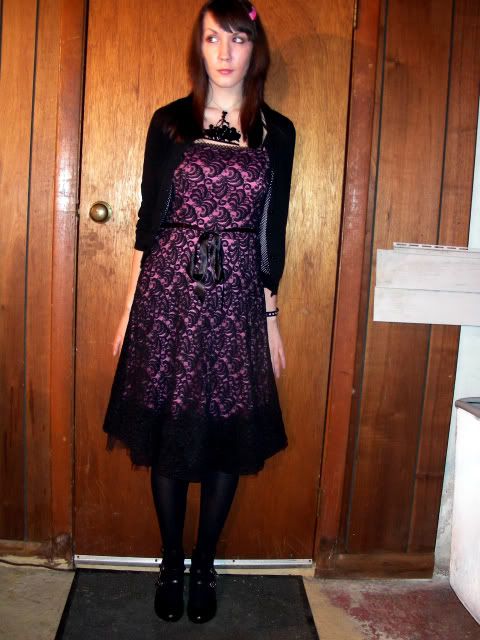 Regular length. Mmm. Love lace.
Shorter.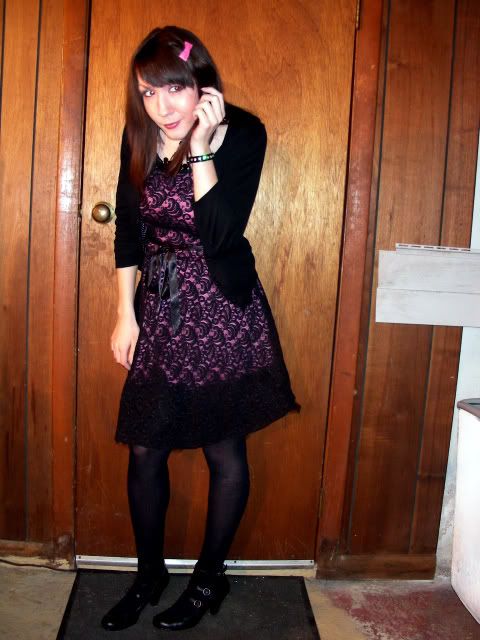 The last thing I want to see underneath the tree?
Dress:
Rampage
Cardigan:
The Limited
Tights:
Forever 21
Necklace:
Etsy
Hair bow:
Walgreen's
Bracelet:
Don't remember.
Shoes:
Navid O Nadia