I attended yet another show last night, this time to see my buddies in
Envy on the Coast
. I also sort of fell in love with a small band from Long Island called
Lion of Ido
. They were so happy and catchy! It was a great night, lots of mingling, lots of seeing people I haven't seen in ages, and new friends as always. Some friends were up from Florida and New York and it was a good old time. Lots of birthday wishes and merriment. The boys played well, I'm so proud of them. They'll be recording soon and their new songs sounded killer. And there was a donut cake (literally a GIANT donut with frosting and purple sprinkles, I wish I had a picture), which went deliciously with my beer.
So since I was just kicking around and running errands today and feeling a bit haggard, I didn't get all gussied up like usual. I do love this sweater to bits, though. I love fair isle and I love moose, so there you go. And I got these pants last winter because every boy on campus had a pair like it. They're a very fine brown corduroy. And the moccasins because another guy friend made them look so comfy. Then I actually had a long discussion with my grandfather about this type of shoe in which he showed me all of his shoes that look like mine. So I take style tips directly from guys sometimes. Big deal.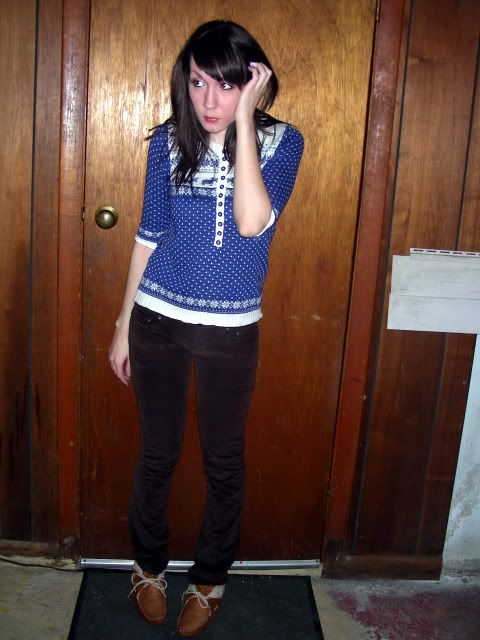 This is what my hair looks like un-brushed.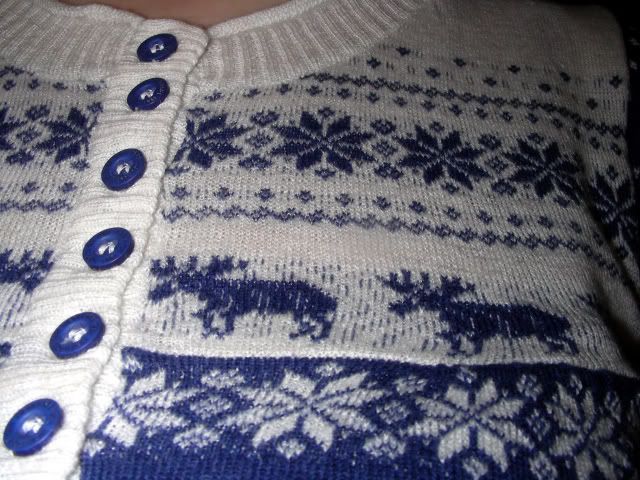 I spy stray pine needles from my Christmas tree!!
Sweater:
Forever 21
Pants:
Mandee
Shoes:
Target